Ergonomic Quiz for Arms, Elbows & Wrists
---
Did you know that musculoskeletal disorders, such as carpal tunnel syndrome and tendonitis account for one-third of all work related injuries? Listen to this story and discover how you can ensure your workers are safe.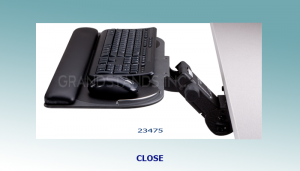 We recently worked with a medical practice to replace older chairs because the workers using them were having back issues. Upon further investigation, the new chairs were a great help, but the bigger issue was the placement of their keyboards. They took this quiz and determined the need for adjustable keyboard trays with a mouse and gel wrist supports, mounted under their desks. The result was a great ergonomic set up (provided by Consolidated Office Systems) and best of all…some happy and comfortable workers.
Questions
Are your shoulders and upper arms relaxed and roughly perpendicular to the floor (not stretched forward or elevated)?
            Yes___           No___
 Are your arms and elbows held close to your body (not extended forward)?
             Yes___           No___
 Is your keyboard positioned at the same level as the top of your elbow?
            Yes___           No___
 When using your keyboard, are your forearms, wrists and hands held straight and parallel to the floor (not pointing up or down)?
            Yes___           No___
 Are your keyboard and/or mouse positioned within comfortable distance of each other?
            Yes___           No___
 Is your mouse easy to activate and correctly sized for your hand?
            Yes___           No___
 Is your workspace free of sharp and square edges that might interfere with your comfort?
            Yes___           No___
 Does your chair have arm rest to help maintain proper posture without adding strain to your neck and shoulders?
            Yes___           No___
 Recommendations
Use an adjustable keyboard tray or keyboard drawer to ensure proper posture while typing.
Adjust the height and tilt until your wrists and forearms form a straight line while typing.
Look for a stable keyboard tray or drawer that is large enough to hold your keyboard and your mouse.
Position your mouse so it can be operated without extensive reaching.
Select a mouse that comes in multiple sizes to ensure proper fit.
Select a chair with arm rests to promote good posture and relieve stress.
Make sure that the arms rests support both arms without restricting movement.
Use a gel filled wrist rest to support your wrists and cushion them from sharp and square edges.
So now that you know what you need to do, call us for an ergonomic evaluation of your office space and be comfortable in no time!
(714) 525-1500