This is an issue we frequently hear about, especially when you consider how much we pay per square foot for rent in California. It's always a toss up; "how much room do we have for the people and where do we put all the stuff we need to store?" You can't stack the people one on top the other, but you can go vertical with your storage or filing systems and save the extra floor space for more important things, like productive employees. Here is a story that may help you consider changing your storage systems.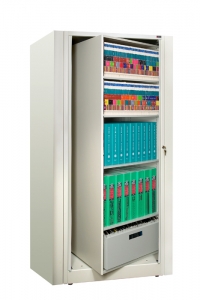 The Hopkins County Clerk of Courts office had 26 vertical files they used to store registration cards for license plates. They moved to a new building but were provided limited space for their registration cards. The solution was to replace the 26 vertical files with seven, 92" high Ez2 Rotary Action Files.
 Instead of expanding out, the units expanded up, using up the vertical space in the room. The system also provided multimedia drawers to organize the registration cards, making them more accessible. The large top drawers were installed for archive storage that did not need to be accessed frequently.
 This accomplished three things:
It provided the right solution (more efficient) for what was being stored.
It provided additional storage for the registration cards on a go-forward basis.
It provided

37% more floor space

allowing room for growth in more productive areas.
 If you have a space problem, or would like to store more "stuff," contact Consolidated Office Systems to:
visit your location
measure your current systems
work with you to identify your future needs
design the best system for you from a myriad of options we have available
 All of the above is provided at no additional charge, if you purchase the new storage systems from us.
 Story courtesy of "Profiles of Success" from Datum Filings Systems, Inc.