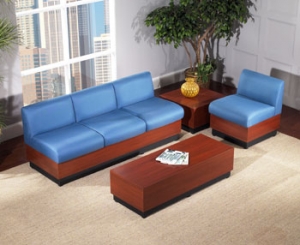 When clients or customers arrive at your office, the lobby is their first encounter with your business or practice.  This is the space where a first impression will begin, so it's important to make it inviting. Here are a few excellent tips that will help transform your lobby into a luxurious waiting place that will make any guest feel at home.
Where to Start?
The first step is paint. When you're picking our paint colors stick with colors that are more on the neutral side such as earth tones. However, don't be afraid to use some color. Base your choices on the furniture and accent pieces you've already selected. Avoid light and dark extremes. White and off-white are too boring for this space. If you choose something too dark, the space will appear much smaller than it really is.
Comfort is Key
Select furniture for your lobby that is both attractive and comfortable. Since your guests may wait for a period of time, seating that will make them feel relaxed and at ease should be of utmost importance. Take into consideration how many clients or customers will be waiting at any given time and plan accordingly. Soft cozy chairs, settees or couches that are easy to clean and maintain are good choices.  If you have a very large lobby, you may want to consider gang seating. Incorporate end tables and coffee tables where you can so that you can display magazines. You may also want to add a standing or wall mounted magazine rack. At Consolidated Office Systems, we can let you test chairs in your office before you make your final choice.
Artwork
Nobody wants to stare at a bare wall while they wait, so use artwork to add some color and flare to your lobby. Choose pieces that are interesting to look at, and be sure they are complimentary to the colors of the room and the upholstery of your furniture. If you find artwork that coordinates with the overall look of the room and stands out on its own at the same time, you're on the right track.
Refreshment Center
A nice way to welcome clients or customers that enter the lobby is to offer them a beverage while they wait. Set up a beverage station with coffee, tea, cups, spoons, napkins and small packets of sugar and creamer. You may want to think about either renting or purchasing a water cooler and cup dispenser as well. Make sure you have a water basket or two located close by for easy disposal.
Designate a Kid Friendly Space
If your office lobby is a place children may be visiting, designate a special kid-zone just for them. A small table and chairs along with some toys with some toys, puzzles, coloring books and crayons will keep them entertained.
Your office lobby should be a place where guests will want to return, so do your best to make it look and feel great. These decorating tips will help you create an atmosphere that your customers will love, adding to the overall success of your business.