I have an office in my home that seems to be the place where everything goes during the holidays…you know, the place where stuff goes when the holiday decorations come out? After all the holiday "stuff" was put away this year, I discovered that not only was this room holding my day-to-day décor during the holidays, it was also home to a mountain of paperwork, left over computer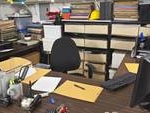 equipment, items that just didn't seem to have a home anywhere else, but too important to toss. I know how to organize, but I'm a serial procrastinator (not my fault, my Dad bequeathed this trait to me…). I decided to start the year with a clean slate and organize the room. By the way, I didn't try to remedy the situation in one day as that can be overwhelming. The time had come! Enough!
I finished the room last week and had such a sense of relief that I didn't have to face it again in its current state of disgrace. Here are some things I did and other things I recommend based on the knowledge I've gained working with Mark (owner of Consolidated Office Systems) and his ability to put together systems for organizing just about anything. These ideas can be applied to either your home or your office.
Paper, Paper Everywhere
The most overwhelming part of the "disgrace" was the documents I'd kept but not filed or organized. Organizing paper files is a task that will inspire most of us to procrastinate…paperphobia: the fear of having to deal with organizing paper files. It can be a debilitating disease, but the quickest cure is a little "sorting therapy."
First Sort
Because paper was the biggest contributor to the mess, I started there. Pick a stack, any stack. Go through each document and decide what to do with it. First you need to recognize when you're keeping something out of fear or habit, rather than reason. Ask yourself some simple questions about each document:
Is the information still relevant to my life?
Has it become outdated?
How easy would it be to replace if I needed the information later?
What is the worst thing that could happen if I got rid of it?
From there, create piles of "look alike" documents (all tax documents, all receipts for large items purchases, investment documents, car information, insurance information, etc. ) Try to limit the categories or you'll end up with too many file folders with limited number of documents in them.
Disposing Documents
Separate the documents you want to dispose of into two piles. Documents you can recycle and personal information that needs to be shredded. If you end up with bags full of personal information, like I did, call a shredding service to pick them up instead of trying to shred them one document at a time.
Note: Here's a little hint to cut down on the mail that comes to your house that you will never need. I have a recycle bin in my garage, so when I pick up the mail from my mail box, I go directly to the bin and toss what I don't need.
Supplies & Equipment
Now you're going to need some supplies/equipment. I'm lucky because I already have the filing cabinets, folders, pockets, labels, etc. at home thanks to Consolida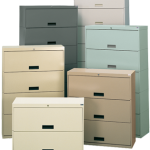 ted Office Systems. If you don't have what you need, give us a call or leave a message here and we'll set you up with the right products for your particular needs.
Create a folder, pocket or envelope for each document category, label them and file them in either a fire proof safe or filing cabinet, depending on the documents.
…the Grand Reveal
The last thing I did was take everything else out of the room that had not been used over the last year and made a trip to the local dump. I didn't really have items to donate, give away or re-purpose..but keep that in mind for your own decluttering. Remember that any computer equipment you're tossing will need to be disposed of appropriately.
I then organized what was left in the room and realized I had a nice, beautiful space to enjoy and spend time in. My "disgraceful" room had just gotten a little more grace. I realized that what I had procrastinated doing, took just a short period of time to remedy. Now it's your turn. Let me know how this system worked for you!
Call Consolidated Office Systems
to help with filing systems and supplies!
…the finished product